Check out our Facebook page: Just Berries
We are now OPEN for strawberry picking!

We are open:
​Monday: 8am-8pm (Memorial Day)
Tuesday: 8am-8pm
Wednesday: 8am-8pm
Thursday: 8am-8pm
Friday: 8am-8pm
Saturday: 8am-7pm

Blueberry update: We look to be open mid to late June.

​Blackberry update: They are blooming. We expect to be open in mid to late July for them.
What's Blooming on the Farm?
| | |
| --- | --- |
| | We always get asked "What is that flower blooming?" So we decided to start a new segment on our website as well as Facebook to showcase the plants around the farm. Check out the pictures on the left to see what is blooming. |
Welcome!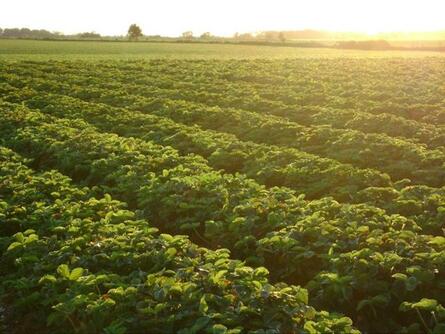 Welcome to Just Berries, located outside Stewardson, Illinois; we are glad you stopped by!
Please see "Contact/Directions" for directions to the farm. We were founded in 2006 with just 1 acre of strawberries. Today, we have 3 acres of strawberries with an additional 2 acres ready for the rotation in 2018, 1 acre of blueberries with 1 additional being added in 2018 and a small patch of blackberries.
We hope to hear from you in the "Contact Us" section with suggestions on how to improve our site or questions about our berries.
At Just Berries, we sell "just berries" as that is our primary focus. We sell quality, homegrown strawberries, blackberries and blueberries.
---
We have taken steps to ensure that our customers do not get muddy when they visit the farm by using cornstalks in the walkways instead of the traditional straw-bedding choice. ​This allows you to pick even after a rain storm and eliminates the mess that straw creates from re-seeding of the wheat and weeds.

So do not let a little rain storm stop you from coming out to pick!

When are our Seasons?
We get a lot of questions about our strawberry, blackberry and blueberry seasons, like when are the seasons? How long do they last? So we want to answer those questions for you below by showing how long our seasons have lasted in the past years.
Strawberry Season: usually lasts about a month to 1 1/2 months. In a normal year, the season starts around Memorial Day, so be on the lookout at Mother's Day for updates, unless it is an unusually warm or cold spring.
**We allow U-Pick and Pre-Picked strawberry orders
2012 Season: April 29 to May 28 under drought conditions along with a warmer spring.
2013 Season: May 25 to June 20 under cool and wet conditions
2014 Season: May 23 to June 10 with 1 acre that was over-picked
2015 Season: May 20 to June 11 with 2 acres but we had winter damage and were over-picked
2016 Season: May 14 to June 11 with 1 full acre and 1 acre with winter damage along with being over-picked
2017 Season: May 14 to June 8 with 1 1/2 acres with no major problems.
2018 Season:
Blueberry Season: Follows Strawberry season; our first picking was in 2015 which lasted about a month with only 90 plants. We are now at a full acre that will be in full production in 2019.
**At this point allow limited amounts of customers to U-Pick for Blueberries due to improper picking; only allow Pre-Picked orders
2015 Season: June 23 to July 17 with limited quantities
2016 Season: June 19 to July 14
with limited quantities
2017 Season: June 12 to July 4
with limited quantities
2018 Season:
Blackberry Season: starts during blueberry season, lasting about a month from early July to early August.
**U-Pick or Pre-Picked
2014 Season: July 10 to August 9
2015 Season: July 6 to August 1 with minimal insect problems
​2016 Season: July 7 to August 1
​2017 Season: July 14 to July 30 with sunburn damage
​2018 Season:
Just Berries in the News
All rights reserved by Just Berries 2018. © Just Berries 2006, Justin Beitz. Pictures may not be reproduced in any way without the expressed written consent of the owner.